Travel
Canada Visit Visa 2022: A Complete Guide on How to Apply for a Canadian Visit or Tourist Visa
A Canada Tourist Visa is an official document issued by a Canadian Visa for Tourists Office which is attached to your passport. It is proof that you have met the requirements to enter the country as a temporary resident (either as a visitor, a student, or a worker). It is officially referred to as a Temporary Resident Visa (TRV) 
There are two types of Visitor Visas for Canada:
Single entry visa: Single entry visas are granted for a period of up to 6 months
Multiple-entry visa: Multiple-entry visitor visas are granted for up to 10 years or one month prior to the expiry date on the passport or re-entry visa (whichever date comes first).
Eligibility requirements for a Canada Visit Visa
The visa requirements for Canada tourist visa are:
A valid passport
Proof of good health
No criminal history or immigration-related convictions
Proof that you intend on returning to your home country (stating you have ties such as a job, home, financial assets or family)
Proof of funds to sustain you during your stay
Intended duration of your stay and temporary residence
Documentation for a Canada Tourist Visa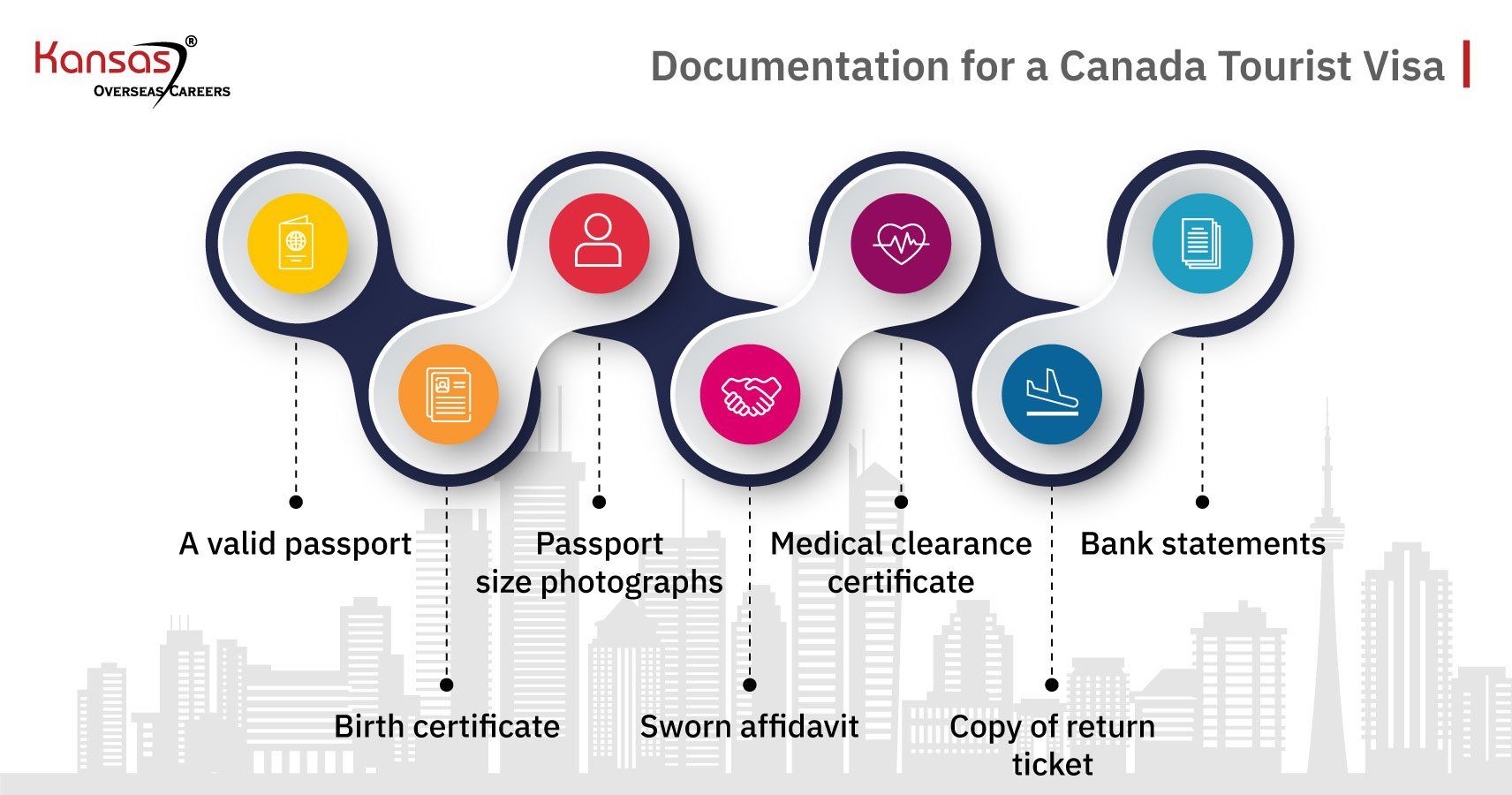 The documents required for Canada tourist visa are:
A valid passport with an expiry date exceeding 6 months
Documents to prove your ties to your nation country
2 recent passport size photographs with a white background having no borders
The photograph must not be more than 90 days old
A sworn affidavit or an invitation letter from your relatives, if you plan to live with them
Medical clearance certificate
Photocopy of your return ticket and/or travel itinerary
Any additional documents required by the local visa office
Bank statements to prove you have enough funds to live in Canada for a while.
Documentation is an important step in applying for a Canadian Tourist Visa.
Consult with a lawyer who can evaluate your unique circumstances and application materials to zero any chances for visa denial.
Related FAQS
What are some important things to consider when collecting your documents for a Canadian Visa for Chile Citizens?
How to extend my Canadian Visitor Visa?What are the Requirements to Extend a Canada Visitor Visa?
Application Process for a Canadain Tourist Visa
Application process for Visitor Visa (Temporary Resident Visa – TRV):
Step 1: Choose whether to apply online or offline.
Step 2: Fill out a visa application form with requested information and documents.
Step 3: Pay the visa processing fee via certified cheque or bank draft.
Step 4: Visit the nearest Canadian visa application centre with your passport, photographs, and other documents.
Step 5: You need to give your fingerprints and photo (biometrics)
Step 6: Submit your visa application form at the Canada visa application centre.
Step 7: Get the receipt from the application centre containing the unique tracking number.
Step 8: Track your application online using this number.
Things to Note:
If you are applying online for a Canada travel, you should have a credit card and a scanner for the documents.
Children under 18 must travel with the right documents and meet the same entry requirements as adults. The border services officer may ask minor children to show other documents depending on whether the child is travelling alone or with someone. Find out about the specific requirements for minor children.
After applying for your visa, you may be asked to:

Go to an interview with our officials in your country
To send more information
Get a medical exam
Get a police certificate
Cost to apply online
It costs CAD100 (about 5,200 INR) to apply for a visitor visa and the biometrics fee is CAN$85 (about 4,400 INR).
To extend your stay as a visitor, you need to pay a fee of C$100 or Rs 5532.73 per person. To restore your status as a visitor, you need to pay a visa fee of C$200 or Rs 11065.45.
Processing Time
The processing time for a Canada tourist visa is 15 days, if your documentation is done properly. A business visa takes 1 to 6 weeks of processing time. A temporary resident visa application takes 16-20 days to be processed.
How can Kansas help you apply?
Profile matching: Based on your unique history, we make matches with the visa eligibility requirements
Procuring documents: Help you arrange documents needed before applying for a Canadian Tourist Visa.
Professional guidance: As a visa consultant, we are well aware of the facts related to the Canadian visitor visa application process.
Proof of funds: Professional advice on how to arrange for funds and document it
Post Visa Assistance: We help you settle down in Canada when you visit the country.
We are one of India's Leading immigration consultants in India. Served 20K+ customers and over 3K+ active cases. For a fast, smooth and affordable visa application.