Uncategorized
How Lifting Equipment Play a Major Role in Moving a Load Safely
Lifting large objects is one of the top causes of workplace injuries. According to the Bureau of Labor Statistics, shoulder and back injuries accounted for over 36% of injuries, resulting in lost workdays. Notably, the primary causes of these injuries were cumulative trauma and overexertion. Manually moving loads poses the risk of strains and sprains due to incorrect lifting of weights or carrying too large or too heavy loads.
Workers are less likely to have back sprains, muscular pulls, wrist injuries, elbow injuries, spinal injuries, and other injuries related to lifting heavy loads when they adopt safe lifting practices. This post will outline the role lifting equipment plays in safely moving loads at the workplace. We will also discuss general safety tips for operating, lifting, or moving equipment. Continue reading to learn more about lifting equipment. 
5 Top Tips for Lifting Loads Safely
1. Protect the Load
A load falling is one of the most significant risks when using lifting equipment. A load that is not properly secured can fall and inflict injuries or costly damage to other equipment or materials at the workplace.
The load must be secured by a qualified individual skilled in selecting the right equipment and executing the lifting task. When connecting the load, it's essential to consider factors such as force, weight distribution, weight capacity, and various rigging procedures. Typically, the load is secured by the slinger signaler or an eye bolt. The former is a critical piece of lifting equipment standard in many organizations. An eye bolt can be used for safe handling and moving by securing an eye to the load. Click here to discover some of the best eye bolt supplier today.
2. Maintain and Inspect the Equipment
Damaged lifting equipment can pose a substantial risk and result in grizzly workplace accidents. It would help if you inspected the lifting equipment before and after each usage to ensure it is in a safe condition and well-maintained. You should document all checks and report any deterioration in the equipment's state to the appropriate offices.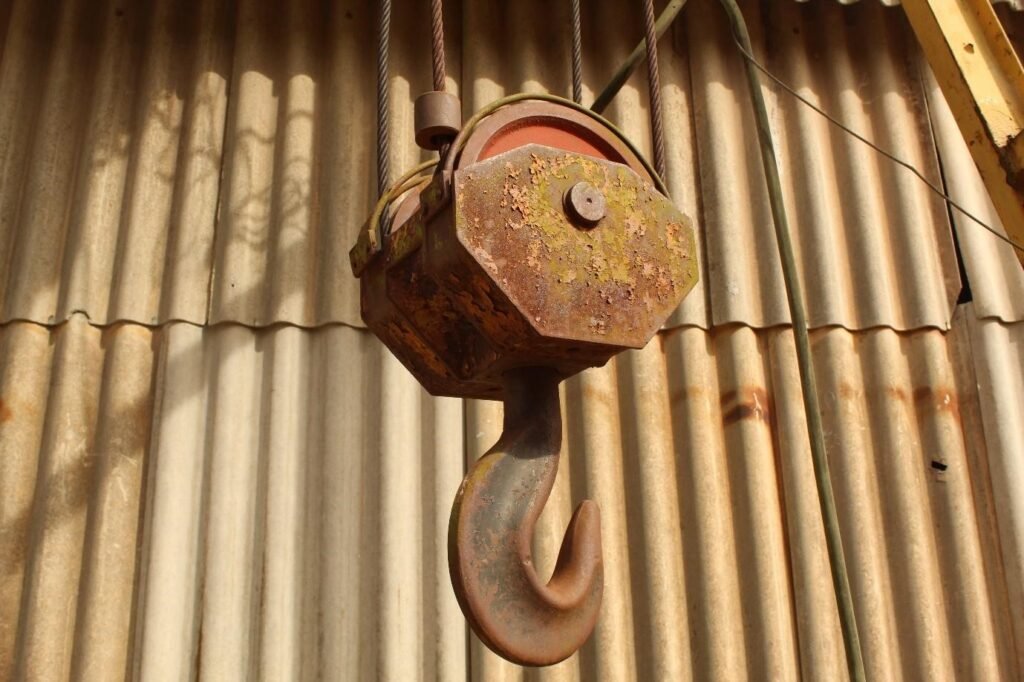 Image source: https://www.pexels.com/photo/rusty-metal-pulley-with-hook-12108490/
3. Supervision
All lifting activities must be supervised correctly. The degree of supervision necessary for a given work should be proportional to the risk involved. Even though routine lifting activities don't always require direct care, lifting operations that are exceptionally difficult, dangerous, or involve big or unique loads require direct supervision to minimize risks. The lifting supervisor should ensure that the crane is safely positioned and the load remains stable throughout the lift. The supervisor should also ensure that the lifting zone is devoid of hazards.
4. Strategic Planning
The lifting crew should carefully organize all lifting operations before executing them. Only individuals with the necessary skills, knowledge, and experience should organize each lifting operation. Conducting a thorough risk assessment is essential to the planning process, as it helps to detect possible hazards and devise amicable solutions. When organizing lifting operations, it's necessary to consider the following factors:
Location of the lifting equipment
Visibility when lifting
Environment
Ideal equipment for lifting
Inspections and maintenance
Safely attachment and detachment of the load
Proper personnel for the task at hand
Potential hazards
5. Use Proper Lifting Equipment
The best equipment for a lifting operation depends on several factors, including:
The surroundings and terrain.
The shape and size of the load being moved.
The load's weight.
How far and how high the load is being lifted.
It's essential to get the perfect equipment for the job. The equipment selected for the task must have lifting capabilities that exceed the job's requirements. Refer to the manufacturer's manual or guide to determine your equipment's capabilities and specifications.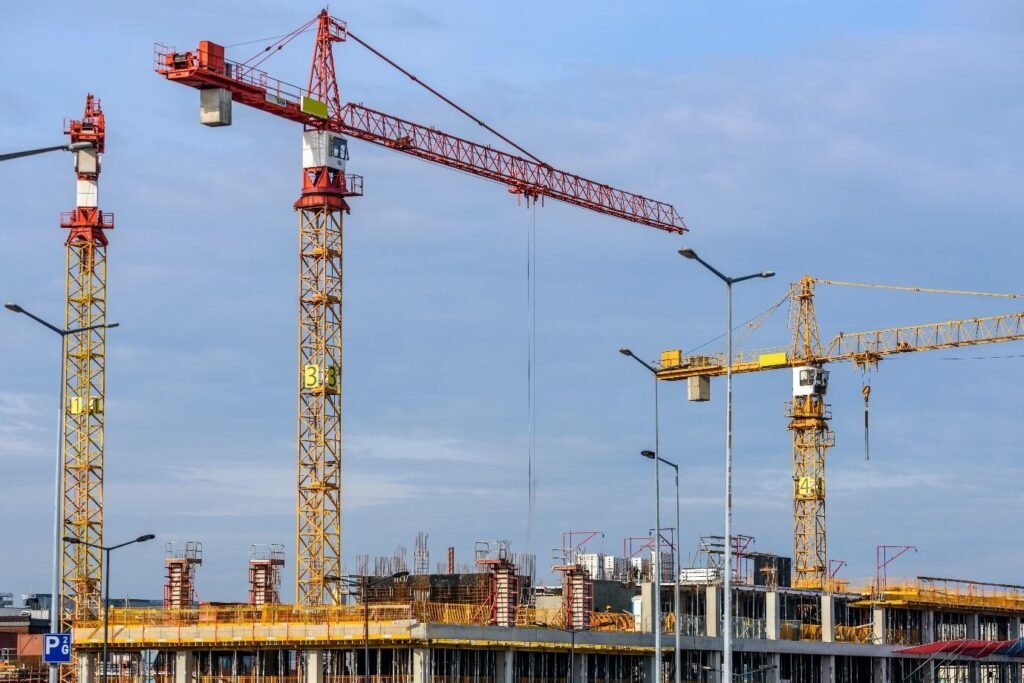 Image source: https://www.pexels.com/photo/three-yellow-and-red-tower-cranes-under-clear-blue-sky-224924/
How Lifting Equipment Contributes to Safe Load Movement
They minimize strain and enhance ergonomics.
As a result of inadequate ergonomics, manually moving products is tiresome and affects the short-term productivity of the workforce. It is also a common source of substantial workplace injuries, including wrist injuries, muscular pulls, spinal cord injuries, and whatnot.
Using lifting equipment reduces the most physically demanding, heavy lifting tasks, leading to a more ergonomic workplace with enhanced employee health and productivity.
They are compatible with several types of loads.
By attaching the appropriate tools, you can use lifting equipment for a broad range of ergonomic lifts, including a wide variety of boxes, crates, reels, drums, and more. Additionally, lifting equipment can twist, swivel, and tilt your cargo for increased efficiency and adaptability while moving and lifting big objects weighing upward of 250 kg.
They reduce the likelihood of accidents.
Just like enhanced ergonomics contribute to long-term health and safety benefits, lifting equipment also reduces the likelihood of acute injuries caused by accidents. Utilizing specialized and safe lifting and transporting equipment is one of the most efficient methods to increase a company's "days without accidents" rating.
They safeguard transported goods.
Goods are frequently damaged during lifting and transportation when handled manually. This is often inconvenient and expensive for companies. On the other hand, lifting equipment can safely and securely handle enormous and complicated loads, allowing workers to avoid processes that result in damaged goods.
They enhance productivity.
From the investor's point of view, lifting equipment is often a wise investment. Using them alone or with equipment such as eye bolts, belts, chains, and the like can decrease cycle times and increase productivity in nearly any warehouse or industrial setting.
Lifting equipment can be adaptable for safe material handling in facilities with stringent sanitary standards, such as food, chemical, and pharmaceutical sectors. High-quality lifting tools and equipment often have smooth, flawless surfaces that are easier to clean and collect fewer particles.
They offer outstanding maneuverability and adaptability.
Unlike full-size lift trucks, the lightweight and compact design of lifting equipment make it ideal for material handling in confined spaces and regions where materials can be challenging to access. In addition, lifting equipment can be stowed away, requiring little space when unused.
The Bottom Line
Lifting equipment transports large, bulky, or heavy loads from one location to another.
Anyone participating in the planning of lifting operations or the operation of lifting equipment is responsible for ensuring that their job is carried out safely and per the appropriate health and safety requirements.
Accidents or mistakes during lifting operations can endanger worker safety or result in costly damage to equipment or materials.
Remember that there are four fundamental conditions for all lifting activities – employ sturdy, reliable, and adequate lifting equipment, correctly position and install the lifting equipment, and plainly label the equipment with the safe working load (SWL). Lastly, only competent personnel should plan, supervise, and conduct lifting operations.